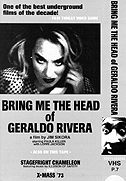 PROVISIONAL'S GREATEST HITS
Videos are $20 apiece postpaid (except What About Me, $30) to Provisional, Laramie, Wyoming 82070-0757; an SASE will get you a catalog.
RAYMOND PETTIBON—The Whole World Is Watching, Sir Drone, Judgment Day Theater: The Book of Manson, Citizen Tania
Pettibon is a successful, pop culture-referential, visionary painter. These releases were shot on crummy videotape and horribly acted. They are of interest to fans of alternative art/music—Mike Watt, Pat Smear, Sonic Youth, and Mike Kelley are among the 'stars.' These lengthy pseudo-documentaries (about '60s activists, the early punk rock scene, Charles Manson, and Patty Hearst, respectively) are like watching a three-hour car wreck.
RACHEL AMODEO—What About Me
Starring Richard Edson, the filmmaker, Johnny Thunders, Gregory Corso, Dee Dee Ramone, and the indomitable spirit of punk sensibility, Richard Hell. Mr. Hell makes a star turn along with former bandmate Johnny Thunders, who's since died. The movie's a bad-girl-gone-worse type thing.
JIM SIKORA—Walls in the City, Bring Me the Head of Geraldo Rivera, Bullet On A Wire
Sikora is an edgy lowlife-obsessed Chicago director. He not only shoots his films with rock stars (David Yow of Jesus Lizard, the guy with the messed up face from Big Black) but with folks who can really, really act (Bill Cusack, Paula Killen, Tony Fitzpatrick). These flicks are sort of narrative, sort of not, and very depressing. Walls In The City has amazingly subtle jazz-rock from the Denison-Kimball Trio and shines with Ms. Killen, who portrays three different women on the verge in the film's short (sort of connected but not really) parts.
RUSS FORSTER & DAN SUTHERLAND—So Wrong They're Right
"An eccentric documentary" the film bills itself, an understatement for this screwily obsessive, socio-anthropological offering. The filmmakers are freaks for 8-tracks—yes, 8-track tapes—and they criss-cross the country to film other obsessives rhapsodize and show off their collections. It's a bit sad, a bit hilarious (both intentionally and unintentionally), and essential viewing for all students of pop culture.
—Mike McGonigal

William DeLeonardis is Knoxville's King of Cult Film
by Mike McGonigal
William DeLeonardis is a busy guy. By day, the fast-talking, gregarious, and neurotic Connecticut transplant is a full-time Unit Supervisor of Library Express at the Hodges Library at UT. By night, he's an improvisational musician in two bands. And then, in between the twilight hours, he oversees a mini-empire called Provisional Video, a mysterious outfit responsible for the distribution of that oddest of commodities—underground film, such as The Adventures Of El Frenetico And Go Girl.
"I am totally excited about that!" exclaims DeLeonardis about his newest release. "It's a lampoon/parody of those Mexican wrestler movies, which are kind of caricatures of themselves in the first place. We competed with Troma and we got it. The filmmaker didn't want to be associated with the company that put out Toxic Avenger and Class of Nuke 'Em High, these no-class, Z-Budget, T&A action films."
Provisional goes way beyond such typical video store fare. Some of the movies it distributes are by filmmakers whose resumes reach back 25 years to the roots of the punk rock sensibility; others are part of the independent film phenomenon that helped spawn Quentin Tarrantino and all those who perform the Sundance ritual (see sidebar). But Provisional didn't form just to release tapes of pre-existing films shot and financed by independent filmmakers. It all started because two friends wanted to make their own independent movies without having to mortgage their futures—so they started a video distribution company first.
In 1989, DeLeonardis was playing a gig in Chicago with his band at the time, Repulse Kava—a noisy rock group either way ahead of its time or way behind, depending on your point of view. But after the show, a guy came up and introduced himself as Joe Carducci. He said he wanted to produce the band, as he liked them. The band was floored.
"This is the guy who produced the Minutemen!" DeLeonardis still enthuses. Carducci is an infamous rock writer and music producer. He was also the one-time head of SST, perhaps the most influential punk rock record label of all time, who released early, important recordings by Black Flag, the Minutemen, Hüsker Dü, Slovenly, Gone, and Sonic Youth. But, while he didn't end up producing the band, Carducci did speak with DeLeonardis about
starting a film/video production company, as it had always been a major interest of his.
DeLeonardis had made "horrible Super-8 art films" at his "fancy" Connecticut high school, which offered film as an elective and taught it so well that he dropped out of the film program at the Art Institute of Chicago because the classes were so redundant. Later, he spent years working for respected, art-conscious video company Facets that not only releases films to video but distributes thousands of titles. He got to learn the ins and outs of the industry there. Carducci had lots of business experience as well, obviously. The first Provisional releases were four Pettibon, um, 'movies.' (see sidebar)
"We really set Provisional in motion with those Pettibon tapes," DeLeonardis says. This year, with the release of the hilarious punk rock parody Rock & Roll Punk, penned by Carducci and filmed by Chicago director Jim Sikora, they'll finally be realizing their goal of making their own films. As evidenced by its trailers, the movie has the potential to be a cult hit, along the lines of The Decline of Western Civilization or more appropriately Spinal Tap. It looks to be a subtly-crafted, fake rockumentary about a punk group called The Outpatients who blindly dive into the world of groupies, touring, dope, and videos, eagerly gulping down the whole alt-rock enchilada.
One could easily see DeLeonardis' running the nuts-and-bolts of his video company out of Knoxville as part of a larger trend. With HGTV, Cinetel, and other independent companies, Knoxville is turning into something of a television production capital, says DeLeonardis.
"Slowly, Knoxville is actually becoming a center for television and film production—whether that is [the municipality's] ultimate goal or not," he says. "It's certainly affecting the economy and bringing more creative people as well as industry types into town."
And in the end, a videotape is a videotape; they all get duped off, the covers printed, and into your hands in essentially the same way. "Initially our duplicated tape copies were made by a company in Clinton, Allied Film and Video. That was great, but the company watched one of our tapes, and it had a scene with naked guys' behinds, and they considered it pornographic and offensive...If any of these other companies offer some sort of film production facilities that we could utilize in the future, that would be totally radical, dude," DeLeonardis [aware that he's starting to sound dry and technical, slips into the universal Esperanto of skatepunk-speak] says. Currently, the tapes are manufactured by a company in California who specialize in "adult" material.
Provisional is a model '90s D.I.Y. home business: It's run by guys who communicate cross-country via mail, phone, fax, and modem, taking advantage of the freedoms offered by electronic communication and the much cheaper rents of Wyoming and Tennessee. That's right, the official address for Provisional is in Wyoming: Carducci lives there, along with new partner David Lightbourne. There's even a Provisional Cafe run out of the company's warehouse in the sleepy little college town of Laramie, home to the University of Wyoming. The product's put together and stored out there, then shipped from there to distributors like Facets in Chicago. The tapes are made near L.A., the covers printed in Canada, and DeLeonardis handles bookkeeping and other crucial administrative concerns from Knoxville. Provisional is a regular post-geographical company, a product of the electronic information revolution. Their dream is for the company to become like the old Hollywood studio system, where they have a group of talented, contracted actors and directors from which to pick the correct cast and crew for a particular project.
With a few notable exceptions, Provisional's actual films are really the least interesting aspect of their enterprise. For the most part, their movies cater to the tastes of the sort of educated young white suburban males who 'slum it' by reading booze-and-sex-soaked pseudo-philosophical authors like Henry Miller and Charles Bukowski, who avidly devour the highly-opinionated Film Threat magazine, and who can at least stomach Tarrantino-wannabe filmmaking. Ask about the proliferation of young white guys with guns on the covers of Provisional video releases, and DeLeonardis will go off on a sympathetic tirade.
"Are my films important?" DeLeonardis asks rhetorically. "In a word, no. But there's not a film on this Earth that's 'important.' Making a film, watching a film, distributing a film—it has no effect on my life other than possible future monetary support. Right now the company is a big drain on me. Our films are not important...Do I go see a film to enjoy myself? Yes. Do I go see a film to think? Sometimes. But ultimately, it means nothing. People don't have their priorities straight if they're going to starve themselves and their family to make their art. Artistes are a bunch of simps. And I can speak with authority on that 'cause I went to art school!
"Art is certainly important in terms of spiritual and intellectual expansion," he concedes. "And I could be a pompous, pretentious liar and say that our films hold the key to the universe. But no, they're about a bunch of white junkie losers who like to hold guns! That's unfortunate to me, but I hope that will change now that we're producing our own stuff. Don't get me wrong—I like a lot of the films we've released. I think they have merit, but ultimately I believe by releasing these films it creates our distribution network, and ultimately we'll be able to create the films that we want to create."
Things are looking up for Provisional's film and video concerns. In May, Sikora's feature-length film Bullet On A Wire will get a two-week long run at the prestigious, legendary, historically-minded Anthology Film Archives in New York City. After that, the movie will show at the Rotterdam Festival in Munich.
At this moment, if you want to rent one of Provisional's movies in Knoxville, you can't. The last local, small video store to carry his films has gone under. You might expect a frenzied tirade from DeLeonardis if you dare ask him about the big blue giant, Blockbuster Video—the virtual video monopoly stores have been known to edit movies and, around here at least, feature little more than the most standard shoot-'em-ups, kid flicks, screwball comedies, star vehicles, and big budget tear-inducing films. But he's no knee-jerk indie film guy.
"I actually respect Blockbuster," DeLeonardis explains, "as triumphs of demographic market research if nothing else. By the time they move into an area, they know exactly what the population there wants to see—they have it all figured out."