The V-Roys hit Late Night with Conan O'Brien, fronted by Steve Earle, highlighting a great year for Knoxville bands.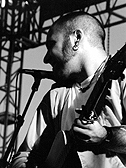 Knoxville finally got its own outdoor music festival for a cause with this year's Smoky Mountain Jam.

News * Sports * Business * Education * Politics * Media
Arts & Entertainment * Local Music * Goodbyes * Victor Speaks!

Last year ended on a note of seeming despair, with local club doors slamming faster than you could say Spice Girl. For the first time in recent memory, we had no venue for medium-sized touring bands, the Old City was sounding like a ghost town, and the clubs that were still in existence seemed to be teetering on the brink of potential failure. January, however, really was a new beginning...and while 1997 had its fair share of tragedy, it also brought the unqualified success of Barley & Hopps, an eclectic rock venue on the Cumberland Avenue Strip that played host to the likes of everyone from the Jesus Lizard to Jimmie Dale Gilmore, Matthew Sweet to the V-Roys, Superdrag to Yo La Tengo, and plenty of damn fine local shows, too. Baker-Peters, against all odds, is making a healthy go of bringing first-rate jazz to West Knoxville. World of Gifts (a.k.a. 619 Broadway) has taken up the DIY torch, providing a space for all kinds of punk and experimental music, as well as avant-garde art and theater.
Candy's bringing fetish dance nights to the Old City, Sundays at the Sound Factory; the Network combined the seemingly disparate worlds of cyberspace and a barroom. The Electric Ballroom brought us dance diva Crystal Waters, Diana Ross impersonators, and Chippendale's. Manhattan's re-opened, as a blues joint, and Lucille's also threw open its doors to the Old City once more.
But, like we said, all was not a go...Amsterdam Cafe succumbed to the Beer Board, as did the much-missed Gryphon's. Brickhouse BBQ shut down before it really even got started. The Frog went belly-up, as did The Mill, and—once again—Desperado's (after it also failed as The Rock Pit). The Autonomy House and, later, the Pilot House, ended successful reigns as the DIY houses in town when their respective occupants/bookers/promoters moved. Fire snuffed out live music at Rhapsody's and the Foundry (though the latter was not severely damaged and will hopefully host more shows in the future). And techno/jungle/ambient record store Strictly Vinyl went up against the curse of existing on Gay Street and lost.
And, of course, the cyclical nature of the music biz shuttled off bands the likes of State Champs (who broke up just around the time they released a CD), Dynamo Humm, the Kissing Virus, Beton Brut, Autonomy Vs. Shame, Newgard 843, Crawdaddy, the Scenesters, the Black Velvet Dogs, Sixty Six Drop Off, and the Doubters Club. The Satellite Pumps decided to call it quits even as impending success knocked on their door, in the form of label interest (including an actual contract offer from super-hip Bloodshot Records). Thumbnail (or, 3/4 of them at least) split town for Chicago and were left without a deal when Headhunter Records folded.
There are always hungry contenders waiting in the wings, though...Former Crawdaddy frontman Michael Crawley picked up the pieces and formed the Mac Daddies. Ex-State Champs' frontman Seth Severns, along with refugees from Dynamo Humm and Smokebomb, introduced us to the fabulous Plastics. A coupla Dirtclods became Huevos Diablos (while, in Nashville, another—Brian Waldschlager—fronted Shinola). The band formerly known as Bluefish reunited as the Fabulous Crowns. Free Texas State, No Love Lost, Dent, the Honeybadgers, Mr. Skinny, New Brutalism, Michael Michael Motorcycle, and Red Scare all showed up to make some noise, as did Johnny 5, K.P.D., The Grubbies, Slow Children At Play, and the Splinters. Flood changed their name to Big Idea, Dinky Doo changed their name to GlowPlug, Highwater changed their name to Wayward Station. Otis and the Town Drunks became Just Another Day, while The Outtasites split into the Buckwheats and the Copycats. Onetime Viceroy John Paul Keith hooked up with some other Knoxvillians in Nashville and started a rocking little combo known as the Nevers.
Meanwhile, a heaping handful of Knoxville bands left their mark on record store shelves, among them the Speed Freeks, the Malignmen (Plague Records), Torture Kitty (Yardsale, VML Records), Gran Torino (One, 26.2 Records), Thumbnail (Red! Dead!, Cargo Records), and so many more we won't even try to name them all (please accept our apologies and save yourself a stamp).
Major Players
Though their only audio release this year came in the form of a cut on an Iggy Pop tribute, Superdrag spent much of the year bouncing between coasts, rehearsing and recording the follow-up to Regretfully Yours (Elektra Records), which may or may not be called Head Trip In Every Key (How much faith do you have in Alternative Press?), and which should be out 'round the beginning of the year. They also hit the road in the fall, as the opening band for the Green Day tour, leaving a trail of trashed hotel rooms (okay, one hotel room, and it was courtesy of Green Day) in their wake.
The V-Roys, meanwhile, played behind Steve Earle at Farm-Aid, on Late Night With Conan O'Brien, and on both his new album and a Jimmie Rodgers tribute; got dolled-up for the very glam pages of Twang magazine; began recording for their next record (release date TBA); and, oh yeah, they signed with a little old label called Warner Brothers.
Mike Smithers, frontman/ guitarist/leader of local punk-pop virtuosos 30 Amp Fuse saw his band's second CD, Saturday Night at the Atomic Speedway, released on up-and-coming indie label Dedicated Records, a major British indie that is just now making moves stateside. In the meantime, however, Smithers once again had to replace both his bassist and drummer, bringing drummer Jason Ratliff and four-stringer Joshua Bentley into the fold. In the meantime, several 30AF tunes have been licensed for commercial use, and the wistful gem "All Day Afternoon" (off Saturday Night) was tapped for the soundtrack of the Wes Craven horror flick Wishmaster.
As he turned 45, R.B. Morris lived the primary dream of every middle-aged American man: to record a debut CD assisted by legendary Dylan organist Al Kooper, have it published by a prestigious label (John Prine's Oh Boy), and hear it raved about by USA Today and critics nationwide, including a glowing Playboy review by rock 'n' roll maverick Dave Marsh. Morris' Take That Ride is a fine piece of work by any reckoning—and its success means all the more to us because, with several local references, it's arguably the most Knoxvillian CD ever released. (John Prine shares the vocals on Morris' classic, "Roy," assuming the title role of a Knoxville railyard wino). Between tours with his fan Prine, Morris still lives in the city that has inspired many of his songs.
And look for big things from Christian rockers Disciple and power pop denizens Boy Genius, who inked deals with Resound (a Warner subsidiary) and Tommy Boy (yes, the same Tommy Boy that's the home of Coolio and Naughty By Nature) Records, respectively.
Jammin'
The first of what will hopefully be an ongoing series of downtown-area music festivals took place in 1997; the Smoky Mountain Jam, held in late September, was conceived by the folks at AC Entertainment to raise money for Friends of the Great Smoky Mountains National Park, a local non-profit environmental group.
By all accounts, the festival was a resounding success. More than 10,000 people crowded the old World's Fair site to watch nine bands—including lawn main-stage acts Widespread Panic, the Violent Femmes and Sister Hazel as well as second-stage (in the amphitheater) local favorites such as Gran Torino and the V-Roys. The result: $25,000 raised for the Friends organization, money earmarked for Park improvements. AC Entertainment hopes to make the Jam an annual event, and plans are in the works to make next year's festival a two-day bonanza.
Froggy Goes a Courtin'
The controversy surrounding Senor Frog finally ended (at least for the moment) when the warehouse-sized dance club off Lovell Road closed its doors at summer's end. You may remember that the Frog took the place of Gunner's, the failed country dance hall that challenged next-door neighbor Cotton-Eyed Joe for line-dance supremacy. Its revamped top 40 dance format, complete with extensive decor that included basketball hoops, a volleyball court and other frivolities, seemed to be a success at the outset. But the club soon found itself mired in problems, including fights and alleged near-riots, many of which were rumored to be gang-related. At one point, a contingent from the Knox County Sheriff's Department, complete with helicopters and dogs, policed an after-show party following a Knoxville performance of rapper Snoop Doggy Dogg and reportedly made a number of drug and weapons busts. After considerable speculation that the club's beer license might be revoked, the Frog made a brief and ultimately unsuccessful attempt at remaining afloat with a BYOB format. Word is that the business will probably not be revived, but stay tuned.