A Space for Remembering
The monuments over our graves mark our passage, create places for quiet contemplation
photographs by Aaron Jay, text by Jack Neely

We know they're there. Some we may glance at and look away. Others we pass every day and hardly notice. We may not look at them very closely, at least not here at home.
In other places, we may visit graveyards. We likely read more tombstone inscriptions in other places than we do here in our own home town. Maybe we've taken tours of New Orleans cities of the dead. Maybe, hearing the famous South Carolina ghost story, we've taken the obligatory laps around the stone marked ALICE near Pawley's Island. Maybe we've strolled through the country graveyard along the Cades Cove Loop. Maybe we've pondered the impressive military cemeteries of Chattanooga, or the more solitary graves of Jackson or Polk.
At home, graveyards are different, almost too close for contemplation.
They go back more than 200 years, of course. In 1793 Elizabeth Carrick, the too-young wife of Samuel Carrick (the teacher who founded the school that became UT), died of a fever as the city was under siege by Indians and was buried in a quiet churchyard at the Forks of the River, east of town. Her grave is still there, the stone more legible than many more recent ones, but we don't have any reason to think it was the very first.
Some tombstones are defiant, some poignant, some even funny.
"His death was an honor to himself and an everlasting disgrace to his enemies" reads an obelisk of a young man lynched for murder, in downtown Knoxville. "A faithful slave, an honest freedman, lies buried here" reads an 1882 grave in a predominantly white churchyard in Fountain City. "He was never boring" reads a recent grave at the Jewish cemetery on Keith.
Buried in Knoxville are a famous blues singer, a major-party candidate for the presidency, an ambassador to Turkey, a U.S. Supreme Court justice, the most hated governor in the history of Tennessee, several who were killed in the New Market train wreck, and thousands of soldiers who died in the Civil War. Unknown soldiers, marked UNKNOWN. And unknown civilians, their names now illegible, worn, cracked, vanished.
Buried here are the father of playwright Tennessee Williams, the mother of novelist Frances Hodgson Burnett, and the young children of humorist George Washington Harris. Off Western, there's a whole field of children.
On Tazewell Pike is the grave that closes the novel A Death in the Family, and on Broadway is the plot that opens the novel In the Tennessee Country. It was the fear of a Knoxville graveyard that inspired a young newspaperboy to work especially hard at a career that culminated in establishing a newspaper called The New York Times.
Some graves are snugly blanketed in mown grass, cheered with flowering shrubs, in parks that are pleasant for a morning stroll. Others are forgotten, sunken into the earth, grown over in dense thickets, their markers disintegrated by hard weather, broken, robbed, bones laid visible. Some are commemorated with contemporary sculpture, in artistic and architectural styles, Victorian, art deco, minimalism, folk art; others are marked in cement, scratched on slate, or remembered with mere rocks left on the ground. Some, the very poor of Potter's Field, and the dead of our bloodiest war, are buried en masse, unmarked. Some are frequently visited with flowers, or, at the Jewish graveyards, pebbles atop the stones, one for each visitor. Many, perhaps most, are never visited at all.
All of them are places that deserve to be seen more often. All of them teach silent lessons.
Stop next time you have a minute. The history of our community is written here, in a nonlinear stream of consciousness, with missing pages, provocative juxtapositions, startling insights. Stop and breathe. These are some of the quietest and most beautiful spots in Knoxville. You may lose hours in an old graveyard without noticing, but it never seems like a waste of time. Stop and read some names of folks who used to be our neighbors. Their families once hoped we'd remember them forever.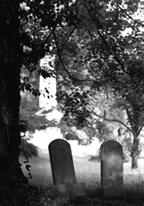 These two lonely graves overlook one of Knoxville's most crowded burial fields: Bethel Cemetery, where more than 1,000 Confederate soldiers (and perhaps some Union men as well) are buried. Most died in the Knoxville area during the Confederate occupation (1861-63), and are buried without individual markers; the single shaft in the background, topped with the statue of a Confederate soldier, honors all these Southern dead. The two graves in the foreground are those of two women of the Lusby family, who died in the 1870s. Susan Lusby Herman, on the left, died at 19, in her first year of marriage.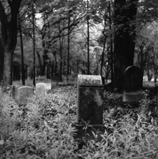 The Odd Fellows graveyard on Bethel was established by a chapter of the fraternal organization, the International Order of Odd Fellows. This cemetery and three others that adjoin it contain the graves of many black community leaders of the post-Civil War period.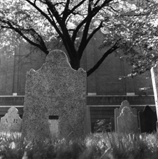 The First Presbyterian Church graveyard is so old it was called "the old graveyard" even before the Civil War. Closed to new burials in the 1850s, it contains the graves of Governor William Blount (1800), UT patriarch Samuel Carrick (1809), and several other early leaders, including Senator Hugh Lawson White, once president pro tem of the U.S. Senate (and, at Davy Crockett's urging, a major candidate for the presidency in 1836). It fell into disrepair during Union occupation and was for a time used as a trash dump and as a playground for black students. It was this graveyard, circa 1870, that so frightened young Adolph Ochs that he was willing to work extra shifts at Market Square offices of the Knoxville Chronicle, rather than walk by it at midnight. In so doing, Ochs learned the newspaper business inside and out; years later, he became the defining publisher of the New York Times. The rear of the Tennessee Theater is in the background.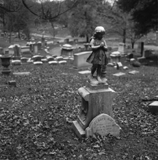 This mournful angel commemorates Gladys May Bright, who died the day she was born. Her father, Zachary Taylor Bright, was a carpenter who lived with his wife in North Knoxville. Though not regarded as significant enough for a newspaper obituary, the Brights' distress is commemorated with one of the more conspicuous stones in this part of Old Gray Cemetery today.
This lifelike statue mourns a girl who died at seven. Lillien Gaines had only recently moved with her parents and older brother and sister to Nashville, where her 38-year-old dad had been elected state comptroller, when she became ill and, several weeks later, unexpectedly died. Lillien's father, a Knoxville native and onetime local shoe merchant, had lost an arm to a wound in the last days of the Civil War. This Confederate officer, engaged to an Ohio beauty before the war, had confronted his fiancé after Appomattox, offering to release her from their pact due to his "mutilation and poverty." She married him anyway, and they had three children. By train, Lillien's parents brought her body back to bury her in the city where she'd spent most of her short life, but they returned to Nashville to live. Both parents were eventually buried nearby.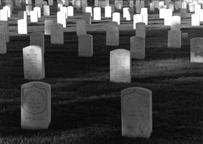 The military National Cemetery on Tyson Street, adjoining Old Gray, juxtaposes thousands of markers, commemorating soldiers from every U.S. conflict since the Civil War, in no obvious order. In the foreground are graves of two Union dead; in the next row are veterans from World Wars I and II. Other Civil War graves are visible in the background, interspersed among 20th century graves of veterans of conflicts as recent as Vietnam.
An engraving at the base of the monument honors more than 1,000 Confederate dead buried without individual markers on Bethel Avenue.

The most astonishing success in Knoxville business history, Cal Johnson was born and raised a slave in downtown Knoxville. With money earned from a brief stint as a post-Civil War gravedigger, he built a successful grocery, then a chain of saloons, a racetrack, and a real-estate concern. By the turn of the century, Cal Johnson was among Knoxville's wealthiest men and a philanthropist, donating money for a black YMCA, as well as the Cal Johnson Park. He died in 1925 at his large home on State Street, less than two blocks from his birthplace. His family plot, enclosed by a partially damaged fence, adjoins the Odd Fellows graveyard on Bethel.
This stone inscribed in Hebrew to the memory of Isaac Copland, a successful Knoxville businessman who died in 1925. Originally from Baltimore, Copland had run a grocery here since the early 1880s. Many graves at this Jewish cemetery on Keith are inscribed in Hebrew, often with the English translation on the other side of the stone. Flowers are uncommon at Jewish gravesites; instead, visitors are expected to leave a pebble on top of the grave they visit. This is the second, and larger, of Knoxville's Jewish graveyards. Several Jewish graves at the original plot just east of downtown are well over 100 years old.

Virginia Rosalie Coxe was a young musician and novelist, author of several magazine articles and books, including a popular Russian romance called The Embassy Ball. A victim of Bright's disease, she died at her Kingston Pike home in 1906. She was only 42. Her husband, a wealthy coal tycoon, memorialized her with this angel and cross here at Old Gray. This graveyard on lower Broadway, established in the 1850s, bears the name of English poet Thomas Gray, author of "Elegy Written in a Country Courtyard."

This military marker is located, along with hundreds of other graves, in a neglected corner of Old Crestview Cemetery, sometimes called Halltown, near Keith Avenue, just over the ridge from New Gray. The great Jazz Age singer-songwriter Ida Cox was originally buried near here. After the cemetery company went out of business, many of these graves were moved elsewhere.
---