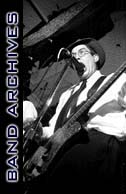 Blowing the Blues
The trumpet-assisted blues band Slow Blind Hill opens a vein in the Old City
by Jack Neely
Bullfrog's has one of the best looks of any bar in town. It's a battered brick place with framed photographs of reggae bands on the wall, ceiling fans and a front door wide open to Central Avenue on hot summer nights. It looks like a beachside fisherman's bar somewhere in rural Cuba, about six months after the last hurricane. If that's a phony front, it works anyway.
If you walk near that open door most Thursday nights this summer, you'll hear some lowdown, dirty, electric blues, and a sly, damp, rolling vocal that might make you think of Phil Alvin of the Blasters—and a jazz trumpet. More about that later. You walk in the door, which is easy because there's no cover, to hear where it's coming from. You look up on Bullfrog's tiny stairwell stage—and then you keep looking, because all you see up there are four middle-aged white guys who could pass for computer jockeys.
They're not. Jaimie Cameron, lead singer and guitarist for the band he calls Slow Blind Hill, is a kitchen-appliance repairman, and not too proud to say so in original songs like "Maytag Man." But he's an appliance-repairman savant. Watching him, you might get the impression he's surprised to hear those blue riffs rolling out of his guitar, the dark sound coming out of his throat. But make no mistake—Cameron's already paid his dues with interest, playing guitar with a series of blues and funk bands stretching back into the '70s.
In the '80s, he led the quasi-rockabilly House Rockers, then the bluesier Big Kabluey. Then his lead guitar galvanized the late Tomato Head sensation Jacqui and the Tumble Kings. Cameron's back on the bottom again, starting from scratch, but you get the feeling he doesn't mind. He's one of the city's finest blues guitarists—so good that Terry Hill took a back seat to his lead in the Tumble Kings. But for now Cameron's comfortable playing weeknights on Central for free.
They heave a mixture of universally familiar standards, like "Stormy Monday," "Hey, Bartender," and "All Shook Up," a few blues songs that might be familiar only to purists, and some original pieces, like the aforementioned "Maytag Man." Cameron's own "Drinking Tonight" is a melancholy, hauntingly beautiful piece that can leave a bluish lump in your throat.
They play in front of a traffic warning sign, which makes you wonder if there's an unlabeled Blind Hill somewhere, backed by what appears to be the national flag of Mali. "The name's my fault," says Cameron, suggesting we start a myth that there was some old Mississippi bluesman who went by that name. (I wouldn't swear there wasn't.) Back behind Cameron on that crowded stairwell where you can hardly even see them are Eddy Roberts on keyboard bass and Big Kabluey veteran John Hawkinson on drums. And, sharing the front, Tom Payne on trumpet.
If you didn't know, it's no ordinary thing to have a trumpet in a blues band. But Payne, a versatile talent who even plays for 20th-anniversary crowds on the Star of Knoxville, makes you believe. Some songs, like "Okey-Dokey Stomp," are instrumentals, guitar-trumpet interchanges. I hesitate to compare the sound that results to something like Blood, Sweat & Tears, because Slow Blind Hill is, mostly, better than that—but hearing a trumpet cut out of a rhythm-and-blues number might make you think, just for a moment, of something like "Lucretia MacEvil." Then Cameron's meaner guitar and sincerer vocals return and remind you this is Slow Blind Hill, and there may not be another band much like it anywhere.
When Payne plays on the riverboat, you see couples cuddling closer together. When he plays at Bullfrog's, you see couples splitting up. Husbands and wives start arguing on the sidewalk as they reach 131 South Central; he wants to come in, she doesn't, or vice versa. They found a babysitter and came down for an evening in the charming Old City. The only thing they hadn't figured on was encountering The Blues. She's got a neat hairdo and a white pocketbook, but for a moment she looks inspired, as if something just woke up inside her—then frustrated. She walks in the door anyway, but before it's too late, he pulls her back. There's no telling what would happen if she went inside, if she breathed any more of this wicked blues air. Better get her home safely as soon as possible. I saw this scene replayed, with different characters, three times that night.
The main thing Bullfrog's lacks is more authentic riffraff. On the night I was there, it was a small but diverse crowd, but the only ones dancing were sorority girls doing that clutched-hands-in-the-air twist, the one you've seen in all the beer commercials. They were having a good time even with their dancing-impaired boyfriends, though, and you can't fault them for that.
The no-cover thing can't last, of course but, for the moment, Slow Blind Hill at Bullfrog's is likely the best deal in town. With a name like Slow Blind Hill, it has to be.

© Metro Pulse