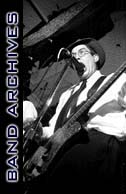 November 28, 1996 * Vol. 6, No. 48
Sit Down and Listen Up
Singer-songwriters Draper-Reynolds-Rodgers keep it "real"
by Ted Olson
The three members of one of Knoxville's busiest bands are getting ready for another gig--setting up amps, adjusting mikes, tuning guitars. Meanwhile, in front of the makeshift stage--basically little more than a square of carpet in the back of the building--a contingent of the faithful have gathered. But no one's talking, smoking, or drinking; in fact, there's none of the usual pre-concert hubbub.
Instead, everyone's quietly sitting in folding chairs, patiently waiting for the music to begin. And when it does begin, the audience shows little outward emotion: sure, some are tapping their feet, but nobody's dancing. The trio on stage isn't at fault, though--the sound is perfect, the songs are tight, and their fans are obviously listening very carefully. Then again, it is Tuesday afternoon, and the venue isn't a bar, but a bookstore. These listeners simply want to sit and absorb the stories being sung, to savor the three-part harmonies, and, as soon as the words are learned, to sing along.
A bookstore? But of course, and there's no telling where this group will turn up next. Vanessa Draper, Karen Reynolds, and Kit Rodgers--known collectively as Draper-Reynolds-Rodgers--have performed at a variety of venues around town, ranging from bookstores and bakeries to festivals and fundraisers. (Performing in unusual places is nothing new to Reynolds; as a young country-and-western singing phenom, she appeared at biker bars, private dances, strip dives, church socials, and in front of 30,000 people at a football stadium--but that's another story.)
If pressed to categorize the trio, the most likely place to find them in a record store would be the section marked "singer-songwriters," a moniker often employed to describe a motley crew of musicians the wide-and-varied likes of Woody Guthrie and Joni Mitchell, as well as John Prine, John Hiatt, Tracy Chapman, and Victoria Williams, to name only a handful. Like those of great singer-songwriters before them, the self-penned songs of Draper-Reynolds-Rodgers are personal, emotional, thoughtful, and often blatantly non-commercial. This is a genre that often performs "unplugged," of course, but not always: the most influential singer-songwriter of them all, Bob Dylan, made some of his best music after plugging in at the Newport Folk Festival in the mid-1960s.
Across the country today, the coffeehouse scene of singer-songwriters is booming. Yet, according to Draper, Reynolds, and Rodgers (who have toured, individually and as a group, throughout the southeastern United States), this type of music has not found the large audience in Knoxville that gather 'round it in nearby cities like Asheville and Nashville.
Draper laments that, "If you don't play country or rock 'n' roll, it's hard to get gigs in Knoxville. Many people around here aren't all that interested in singer-song-writer music."
Well, the uninitiated don't know what they're missing: these three are making some of the most enjoyable and interesting music around Knoxville, regardless of the genre. Reynolds states her hopes that "Once people get out and hear us, they'll enjoy our music. They'll sign up for our mailing list, and they'll start coming to hear us play, because they'll realize that we're real people who write and sing about real things."
In concert, they have a collective repertoire of over 150 original compositions from which to cut-and-paste a set list (as well as select songs by favorite influences, e.g. Kate Wolf and Nanci Griffith). Draper, whose earliest musical inspirations were singer-songwriters like Jim Croce, Carole King, and Jackson Browne, writes songs that touch on political issues, "relationships gone south," and the joys of her favorite hobby--hiking in the Smokies. Reflecting her background in country music, Reynolds pens a mix of honky-tonk numbers and heartfelt ballads. And, in his songs, Rodgers--who formerly fronted the Atlanta-based alterna-rock band Clouds of Magellan--explores personal beliefs and social issues.
All three musicians share lead and harmony singing responsibilities, and together they reach a seemingly effortless and seamless vocal blend. Reynolds' high harmony singing, a skill first developed during childhood jam sessions with her musician siblings, is the perfect partner for Draper's rich, lower-pitched lead voice. Both women laud Rodgers for his "exceptional, intense" vocal delivery. Instrumentally, the group's sound is as tight as a drum, and the three have worked out polished, rhythmically subtle, two- and three-part acoustic guitar accompaniments to carry the songs.
Reynolds' explanation for the group's tight sound is that all three communicate with each with a comfortable ease. "To get the opportunity to play music with people you just really click with is a neat experience. That's the way it has been for me and Vanessa and Kit, and it's very unusual. Many people play with the same people for years, and they're always at each other's throats. But we just click. When we're on stage, we don't have to have eye contact to know where the other people are going with something; we can all feel it."
Of the three, only Reynolds is a full-time musician--Draper works by day as a research administrator at a local orthopedic clinic, while Rodgers serves cafˇ food at a West Knoxville eatery. Reynolds wears many musical hats: besides managing both her own band and some other groups, she also regularly sang the national anthem at Knoxville Smokies' home games this past summer and hosts an acoustic-only concert series at Sassy Ann's. She says her busy schedule is simply a natural outgrowth of her love for this type of music.
"There are many good singer-songwriters around here whose stuff is worthy to be heard, and I for one want to call as much attention to them as possible."

© Metro Pulse