(If you don't see a graphic above this line, click here.)

One man's tour of Knoxville's BBQ underground
by Jack Neely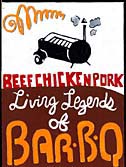 Knoxville is not famous for its barbecue. Tennessee is. Tennessee's an international celebrity for its barbecue. In a culinary guide called The All-American Barbecue Book, which describes American barbecue by state, the section on Tennessee is headed, simply, "The Barbecue Belt."
Knoxville has lots of barbecue places, sure enough—but not one of them claims to serve "Knoxville-style barbecue," and, in spite of Sarge's glamorous exposure in the Tennessee edition of the current Southern Living, none are well known outside the region. Most aren't even well known in Knoxville.
But it's here. All you have to do is drive around town with your windows down on a warm night. That aroma may be the only thing that all parts of town, from the inner city to the outer suburbs, have in common. Among carnivores, at least, barbecue—slow-cooking meat over coals—is a universal language.
As much as it might surprise the culinary historians, Knoxville barbecue actually goes 'way back. On special occasions, a goodhearted saloonkeeper might barbecue a bear or a boar or some possums for his clientele. Some Market Square butchers, many of them immigrants, specialized in it. Knoxville barbecue connects to the modern era with fast-food barbecue popularized during the 1982 World's Fair by a man named Buddy Smothers.
If you want safe, decent barbecue in a clean setting with always plenty of parking, and get it dependably quick, you can just stop reading here. On those scores, Buddy's is hard to beat. The official barbecue supplier to the 1982 World's Fair remains the most popular barbecue in town. It's also, by far, the mildest. And if you've got time to sit down, and money to spend on a full dinner, there's nothing wrong with Calhoun's, locally owned and allegedly the most popular restaurant in Tennessee. Calhoun's ribs, perennial favorites of our readers, are mild but succulent. Corky's, of course, is part of a national chain of Memphis-flavored barbecue and, by all accounts, do an excellent job of it.
But if you want a barbecue experience, you might want to try some of the less-famous barbecue spots in town. Only they can supply local flavor with their hickory flavor. If they all have one thing in common, it's that somebody boasts that they have the best barbecue in town. And that the proprietors happily concur.
spooky Frazier runs his place in a big white duplex at MLK and Milligan that looks like a low-country general store. He does his smoking right out front in the big oven on the front porch. They serve rich, smoky ribs and chicken, with white bread to sop your fingers. A sure sign of a great rib shop is the sink beside the cash register. You can never suck your fingers completely clean, and if that bothers you, you can wash them with soap.
Still, unlike most barbecue places, Spooky's is a full-service restaurant, with a wide-ranging menu that includes the famous Spookyburger, a very large ground-beef indulgence, as well as chitlins, greens, and homey country food. Of all the places we visited, Spooky's has the most comfortable atmosphere. Bring a paper and spend the afternoon chatting with Mrs. Frazier.
It's one of those places you ought to bring visitors to show them Knoxville, and apparently many people do. Behind the counter is an impressive gallery of famous visitors, both local and national. Some downtown big shots show up on a semi-regular basis. Tee Martin comes in about once a month; when he was in town, Peerless Price was also a regular. Attorney General John Gill comes by now and then. Trumpeter Doc Severinson himself was here a couple of years ago; he sat right over there and had the ribs.
They say Clark "Spooky" Frazier got the nickname as a kid, as a result of his eerie resemblance to a deceased uncle. Today, his logo is a top hat over a pair of spooky eyes. Usually grinning, he's not very spooky to his customers, but he's been known to stand outside by his cooker and bar admittance to anybody he doesn't like the looks of. He doesn't need trouble, and doesn't get it.
Charlie Frazier, who runs Frazier's drive-thru over on Magnolia, is a first cousin of Spooky Frazier. Frazier's drive-thru serves all sorts of barbecue through their customer window, but it's also the only drive-in chitlins place we know of. It's a rough-and-ready sort of place; you can start a conversation with Mr. Frazier at the order window on one side of the building, and continue it at the pick-up window. Try the delicious Frazier's Special: a few ribs and a hearty sandwich.
There are some differences in taste between various East Knoxville barbecues, but they all have some basics in common: most of the barbecue sauce is tomato-based; regardless of how hot it is, it's red, smoky, and sweet.
Dixson's is the little neon-lit house you've seen off Magnolia, near Bill Meyer Stadium. Often you can see the smoke pouring out of the screen porch by the "Gone Hog Wild" sign. Open only Thursday through Saturday, Dixson's traffics mainly in takeout, and strictly barbecue; it may be the hottest barbecue on the East side; several aficionados also say it's the best. If you're not a regular and you arrive during a ball game, don't be startled if a voice from the screened porch orders you not to park there; Dixson's doesn't like to share its few parking spaces with the baseball crowd.
On the west side, there's the suddenly famous Sarge's. Now located on Western Avenue at Pleasant Ridge (across from New Gray Cemetery), Sarge's first opened on Texas Avenue, nearly 20 years ago. Sarge says he learned his barbecue tricks in the Virgin Islands, and that may well be true. There's a sweet, exotic, island taste to his product, and he hottens it up with habanero peppers. Of all the barbecue places that do serve pork sandwiches, Sarge's may be the most distinctive. You get a yen for one, and there's just nothing you can do about it but go. West Knoxvillians have been known to drive ten miles just for one of them. But Sarge's serves good ribs, too, and—this is surprising to many folks—a great, smoky, barbecue-flavored tamale.
He's got seating, but most folks sit in there just to wait on their takeout orders. Sarge's is often busy, and sometimes your order takes longer than you might expect, but it's always worth it. The dining room is strictly utilitarian, decorated with water-damaged photos of sports heroes, with ESPN on TV most of the time.
Some compare Sarge's sandwiches to those at the old University Avenue institution Brother Jack's. The late Brother Jack, who was known for barbecue as long ago at the '20s, is sort of a patron spirit of Knoxville barbecue. Brother Jack's sauce, bottled, is now available at some groceries. They say he invented the Pigburger, which is now standard fare at many barbecue spots, though with wildly various interpretations. Some places, it's just a medium-hot pork hamburger. At Scruggs's, a pigburger is more or less a pork sloppy joe; down the street at Frazier's, it's an adventure of chopped pork parts in one sandwich, with one bite tasting much different from the next. (One Frazier's pigburger can be both the best and the worst sandwich you've ever had.)
it would be nice to be able to talk about barbecue without mentioning race, but there seems to be prevailing differences in taste; it's not quite as thorough as institutional segregation, but it's impossible to ignore, too. Most of the barbecue places we visited were not only predominantly, but overwhelmingly favored by one race or another. The places that cater mostly to blacks tend to serve a much spicier, saucier product, and tend to have more emphasis on ribs and shoulders than on barbecue sandwiches, which some of them don't even serve.
One exception to barbecue's segregation is Scruggs's, on Magnolia, now celebrating its 25th anniversary. Employing both blacks and whites in the kitchen, Scruggs seems to appeal to both black and white customers, too. Scruggs's barbecue—they serve it sliced, not pulled, and cook it in a pit, not a drum cooker—is a tad milder than most East Knoxville barbecue. Scruggs has many enthusiastic admirers and many enthusiastic detractors, and we'll stay out of that fight.
Located in a gas station/convenience store at the busy five-way intersection at Brooks and Dandridge, Kirk's doesn't look as scary to suburbanites as several of these other places do—but over the last couple of years, some shootings and parking-lot drug deals have given Kirk's a reputation for violence, perhaps undeserved, that has prompted some heated discussions on the Beer Board. Well, Kirk's doesn't have beer anymore; what they do have is a good, spicy barbecue sandwich, which is especially preferred by those who prefer the sliced to the pulled. Until the Barbecue Board rules against them, they'll probably keep serving it up.
The Pit Stop is a relatively new barbecue place right in downtown North Hills. Located in an old filling station at the corner of Whittle Springs Road and Washington Pike, within sight of the Flat Top Barber Shop, it's pretty much just a take-out place, although there are umbrella-covered picnic tables outside where you can watch pleasant North Hills go by on a nice day. Their sandwiches are pretty hot and spicy, even if you don't ask for it that way. The Pit Stop is like Buddy's on a wild fling; we'll be curious how this relatively mild-mannered neighborhood copes with them, and hope for the best.
Boo's, at University and Fifth, is another promising recent development, right on the town edge of Mechanicsville, and rivals Spooky's in from-the-road presentation. Above the entrance on this iridescent purple building is a sign advertising THE BEST BAR-B-Q, SOUL FOOD, CDs, TAPES & FURNITURE AROUND. Maybe so, but mainly barbecue. As at Spooky's, Boo's drum cooker is outside on the sidewalk; you can have a good look at it, just as long as you don't loiter. (One sign of a great barbecue place is a No Loitering sign, maybe because so many people want to loiter near a place that smells this good.) Inside, Boo's simple decor might be called "rustic," if it weren't all painted purple. They've got a couple of plastic lawn chairs inside, but it's pretty much just a take-out place. You can buy other things, like jewelry and perfume, at the cash register, but Boo has a warning for you, on a sign mounted twice around the store: "Mr. & Mrs. Credit was here, but they are long gone. Don't ask for them in here anymore."
If there's any practical reason to observe the differences between white-operated and black-operated barbecue places, it's that in the latter, the word "sandwich" has a different meaning than the meaning it has to honky literalists. Here and several other places feature something called a Rib Sandwich. It's not likely to remind you of a McRib sandwich. It's not even what you might ordinarily think of as a "sandwich." At Boo's, and at several other barbecue joints in town, a Rib Sandwich is a Styrofoam box full of half a dozen sizable ribs, bones included, of course, with nearly a pint of barbecue sauce poured over them. The "sandwich" part comes in when they throw a couple of pieces of white bread into the box just before they slam it shut. "Sandwich" is just a barbecue-lingo codeword for "single serving, with white bread on the side." Still, two normal-sized adults might be content to split one Boo's Rib Sandwich.
Boo's ribs are cooked to the point of falling off the bone, but still moist and tender. But they're hard to eat without getting sauce all over your chin, your overalls, your upholstery, your elbows. It's surprising how many rib places are TO GO. A box of ribs in sauce aren't car food, as we discovered the hard way, and they aren't easy to carry on foot, either. To eat good sloppy ribs comfortably, you'll have to wear a bib and have a steady-handed waitress place it before you on a plate placed carefully on an absorbent tablecloth someone else will have to clean, and with an infinite supply of napkins or, preferably, moist towelettes. Barbecue ribs get you messy in ways that mere napkins and finger-sucking won't do much about. The good part is you'll smell them every time you touch your face for a day or two.
Ott's barbecue is so different you may want to come up with a different word to describe it. The barbecue place on Kingston Pike in the far reaches of West Knox County, even past Farragut, a cross-county stretch known as Dixie Lee Junction, once notorious for risqué drive-in movies and cheap fireworks. This strip may not have the outlaw reputation it did when Ott's opened in 1963, but Ott's is still the best argument for the case that commercial West Knox—even trans-Bearden Kingston Pike—does have some character if you look for it. It's a little place with a diner-style counter with a pile of sauce-stained leftover newspapers.
The cook today tells us they serve "North Carolina" style barbecue, and that seems credible. The tarheel state is well known for its vinegary, almost bitter barbecue that has never been in the same room with a tomato product. However, a clipping on Ott's wall quotes the original owner, Otto, as calling this stuff Paducah (Ky.) style. The sandwiches are very small—and commensurately cheap—and they're served smashed like Cuban sandwiches. They serve the meat dry, but you're welcome to douse it with some of Ott's distinctive sauce. They're delicious, but if you're not familiar with this style, buy two sandwiches; one to get used to the taste, and one to enjoy.
if not world famous, Knoxville's barbeque is alive and still evolving. Next time you feel your tastebuds getting restless, give one of these worthy spots a try. But be forewarned: some of them have eccentric opening hours—and don't even observe them closely. Call first, or have a back-up plan. And when you get there, be ready to talk.
It goes without saying that boasting and barbecue go together. Introverts don't tend to be attracted to the barbecue business. Barbecue chefs are always happy to see you and eager that you try their specialty. Sometimes they want you to try it right in front of them, as they confidently wait and see what you think. When you smile, they say, "See, I told you."
You don't tend to get that sort of interaction in a burger joint.